EBS-G Gas Burner for the Asphalt Mixing Plant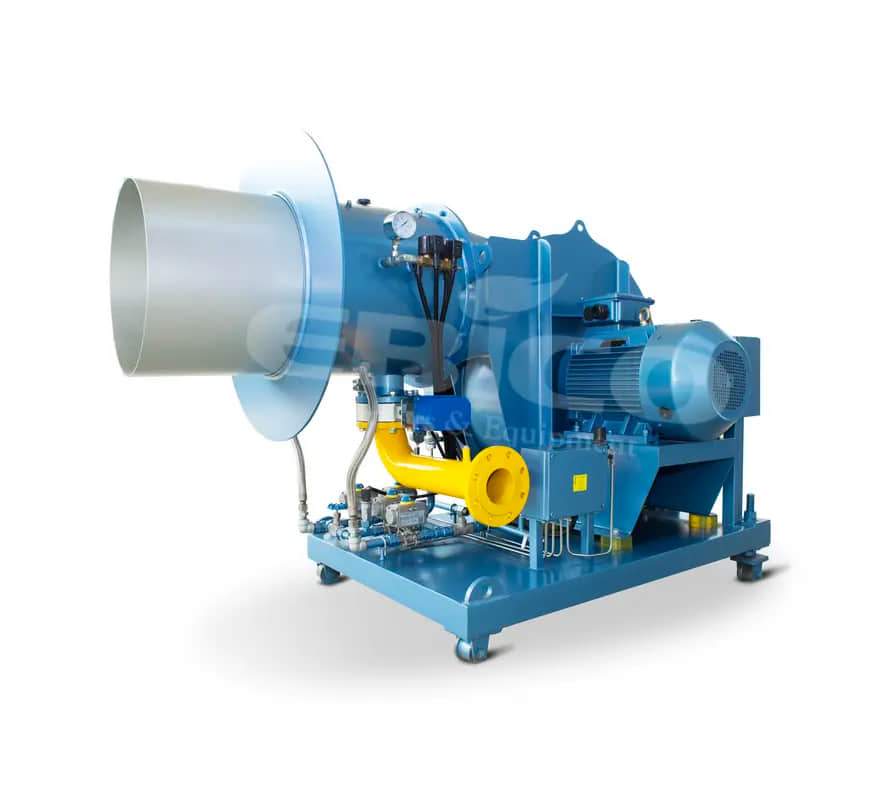 EBICO EBS-G gas burner for the asphalt mixing plant is the fourth generation of compact type and electronic proportional control digital burner researched and developed, especially for asphalt mixing plant equipment. This industrial gas burner is designed according to the four major ideas of European products focus on safety, energy-saving, environmental protection, and intelligence, as well as environmental and fuel requirements of China market. It is an advanced intelligent electronic proportional control machine that is launched to the market after being approved by lots of tests and qualified data.
Brand Overview
Founded in 1998, EBICO (China) environment Co., Ltd. is headquartered in Milan, Italy. With more than 20 years of industry experience, EBICO has been committed to building the most influential and professional burner manufacturing company in the world.
EBICO is very professional in providing supporting burners for steam boiler, hot water boiler, heat conduction oil future, garbage incinerator, hot air boiler, asphalt mixing plant, road structure and other equipment. EBICO has customers all over the world and countless successful cases. At the same time, EBICO has also actively participated in many international bidding projects, It has won high praise from customers.
Design and inspection standards for EBICO burners
Design Criteria: Follow
Test standard: follow
EU EN267 (fuel)
EU EN676 (gas)
EU CE/ISO certification
China CSEI certification
Russia EAC certification
National standard GB/T36699-2018

Product Characteristics
– Large adjustment ratio: 1:10, advanced electronic computing proportional mode, steady start-up, high-temperature control accuracy.
– The machine comes with an integral compact structure; for the convenience of installation and maintenance, a mobile wheel hub device is used integrally; the oil (gas) supply line and control circuit are arranged compactly and ensures systematic connection; it is novel in design and good-looking.
– The gas burner supplies oil at low pressure, air (steam) atomizing, and can use poor oil.
– Fuel and combustion oxygen are computed and supplied separately, and the ratio is computed respectively by PLC, so as to ensure complete combustion and increase efficiency by 2%.
– The fan applies frequency converting control, so its annual power consumption reduces by 30%-40%; featured in high anti-pressure capacity and strong adaptation, it can control flame easily.
– The gas burner applies gas ring atomizing and ensures low NOx emission.
– Its safety, energy-saving, and environmental protection performance meet European standards.
– Its elements are protected by protective measures, the level of protection: is IP55; that of the master device reaches IP56-IP67. It improves safety and eliminates potential failure.
– Applicable fuel: gas, light oil, oil mixture, heavy/residual oil, pulverized coal, oil/gas dual-purpose, oil/gas/coal multipurpose, etc.
– This EBS-G gas burner for the asphalt mixing plant is applicable for model 500-6000 asphalt mixing plant.
Model parameters
Model
Outputconsumption

(kW)

Gas consumption

(Nm3/h)

Specifications of

the mixingplant

EBS350G
4150
415
500
EBS600G
7100
710
1000
EBS900G
10600
1060
1500
EBS1200G
14200
1420
2000
EBS1800G
21300
2130
3000
EBS2500G
27800
2780
4000
EBS3000G
35500
3550
5000
EBS3500G
41500
4150
6000
Shipping method
Road
Transport
Maritime
Transport
Railway
Transport
Air
Transport
Service Standard and Guarantee
Model Selection
When you are not sure exactly what kind of burner your device needs: You can leave a message online or call for consultation. Our professional receptionist will give you an answer as soon as possible.
Total Solutions
According to customer requirements for fuel, applicable equipment, emission requirements, power range, flame length and so on. Our professional technical team will design the most suitable solution for you according to the actual situation.
Original Accessories
EBICO will provide all the spare parts needed for the burner and related equipment during operation. And can ensure that all choose high-quality brand products, perfect fit, no additional problems. You can purchase or consult directly online.
After-sales Service
EBICO offers a one-year warranty on all products you purchase. And will provide on-site debugging and remote technical services when conditions permit. In case of your need, EBICO can send after-sale specialist for on-site service.
Global Business Support
EBICO's success spans the globe. We look forward to working with you to explore new markets. Detailed information can be viewed through the case.
Online Technical Services
Considering time and space, EBICO can be guided remotely online. When EBICO receives your question, it will immediately arrange technicians to provide professional technical guidance via remote video. Solve problems quickly for all EBICO customers.
EBICO After-sales Service Commitment
Free maintenance within 12 months
24-hour online customer service
365 day non-stop service
Product data download