Dubai DEWA CSP 700MW Heating Furnace Supporting Burner Photovoltaic Power Generation Project
Dubai DEWA CSP 700MW Heating Furnace Supporting Burner Photovoltaic Power Generation Project
The DEWA CSP project is the largest solar power generation project in the world to date, covering the construction of three 200MW tank power stations and one 100MW tower power station, capable of generating 700MW of power. In a more advanced combination of tower and trough solar photovoltaic-thermal power generation, the solar energy is stored in molten salt to generate steam according to actual demand and achieve a stable power supply for 24 hours at a lower cost.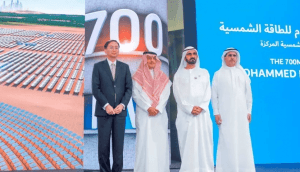 At present, photothermal power generation has become the focus of attention due to its considerable scale of benefits and the generation of ultra-low electricity prices, its advantages are energy storage and peak regulation. Dubai is a country with huge electricity needs, requiring longer periods of storage to support long nights of electricity demand. As the core equipment part of the super project, the biphenyl ether heat carrier heating furnace of Changzhou Energy Equipment General Factory Co., LTD., which supports The EBICO Burner, has the honor to create the name card of China's photovoltaic power generation together with Shanghai Electric Group.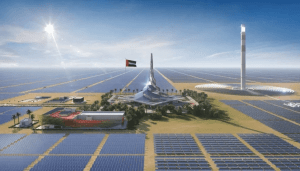 In the field condition of this project, the fuel is light diesel oil. The EBICO burner provided by Euroguarantee is the EC10QR hot-air split low-nitrogen combustion light oil burner, which adopts the medium atomization mode with a larger regulating ratio. In addition, the supporting instruments of the burners all adopt fully explosion-proof design, and the designed hot air temperature of the burners is 250℃, which conforms to the clean energy strategy of Dubai in 2050.
It is a pleasure to work with EBICO, who has convinced us of its cutting-edge technologies and superb service quality.——Dubai Water and Electricity Authority(DEWA); Saudi Arabian Power Company(ACWA)